The Sheriff's Department's "decal controversy" is sticking around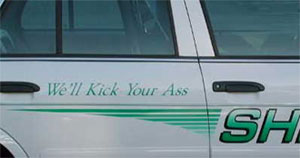 KGET - Bakersfield, CA
December 13, 2003

It all surrounds a patrol car, which carried a message some found offensive. The car decal said, "We'll Kick Your Ass".
It is the kind of stunt that could have quickly been put to rest.
Instead it has prompted a flood of editorial letters to the Bakersfield Californian with mixed reviews on what the sticker said.
There is still plenty of controversy over how the sheriff handled it.
It is not the act that gets you in trouble, but whether or not it is a cover-up.
There may or may not be a cover-up in this case, but there are a lot of different versions of what really went down, who gave the order, and why it happened in the first place.
On September 26, 2003 KGET 17 received an email containing a picture of a Kern County Sheriff's patrol car with an official looking sticker on the side reading... "We'll Kick Your Ass".
When contacted for an explanation, Sheriff Mack Wimbish told us he didn't have anything to do with it but that when he saw the decals he found out who was responsible and had them reprimanded.
KGET 17 news aired no story at that time.
Fast-forward to last week, KGET 17 asked Wimbish and his Assistant Sheriff Mike Lafave who ordered the decals made?
We were told it was a sergeant in charge of vehicles, but that the sergeant cannot remember who told him to do it, only that he remembers it was not the sheriff.
Now on to Tuesday, Assistant Sheriff Mike Lafave contacted KGET 17 and claimed, the sergeant now remembers, that it was the commander in charge of vehicles who told the sergeant below him to make up the stickers and have them placed on two cars.
Commander Chris Davis spoke out for the first time Wednesday. He is the commander in charge of that sergeant.
According to everyone involved, even Cmdr. Davis, there never was a direct order to pull off this gag.
"Basically when a supervisor says I like this, we do it," said Cmdr. Davis. "Perhaps he didn't realize the power he has as sheriff with a few words"
So what is the controversy over?
For the Californian it is because the sheriff claimed he knew nothing about the signs and that he thought they were doctored photos, when he now admits he knew they were stickers.
The paper's executive editor is standing behind his reporters work.
For the public, it may be that the sheriff and assistant sheriff are blaming a commander who speaking publicly at some risk says they are wrong.
"Something that started out as a cop joke in house, ends up hurting a lot," said Cmdr. Davis.
One thing is for sure, The sheriff admits this was his idea in a way, because he walked around the department showing off a magazine drawing of a similar gag and said he thought it was funny.
It may be another ill-fated example of a relatively new sheriff trying to win over his reluctant command staff, nearly all of whom supported Wimbish's challenger in the election.
Department insiders describe Wimbish as the odd man out, he may just be trying to fit in, with a little locker-room humor and cop-shop shenanigans.
Just a few months ago, he said as much when we asked about his new mustache.
"I looked around the table and all my command staff had mustaches," said Wimbish, "So I thought I'd try one."