April 15, 1997
Phil Kempin
1610 Waterwood Drive
Lutz, FL. 33549
Dear Representative Bilirakis,
As requested, here is the completed form from A. L. Kobres, to comply with the Freedom of Information and Privacy Act. I hope this will help this fine Patriot to keep operating his little radio station.
For me, his facility has been a God send, as I am legally blind. I get an inordinate amount of information (House and Senate Bill numbers, State Dept. document numbers, what the U.N. is doing to steal America's sovereignty, etc.) Using this information, and your help, I have been able to create a small Christian newsletter, and do some speaking.
Thank you for your kind assistance. But, let me remind you, again, that if your intervention into Mr. Kobres' situation will bring him further harm, and cause the Federal Government to confiscate what little he has left, PLEASE, PLEASE cease and desist. If you feel my bringing this incident to your attention will red flag my name, again, I beg you, go no further. My wife and I live on a very small retirement, and could never get the money together to fight the Federal Government.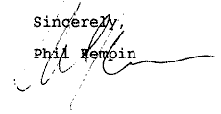 P.S. An attorney friend at church recommends I not be putting this in writing. I pray he is wrong. He feels I will be labeled an anti government type, and be placed on the wrong list.